Engineering Peer Academic Leaders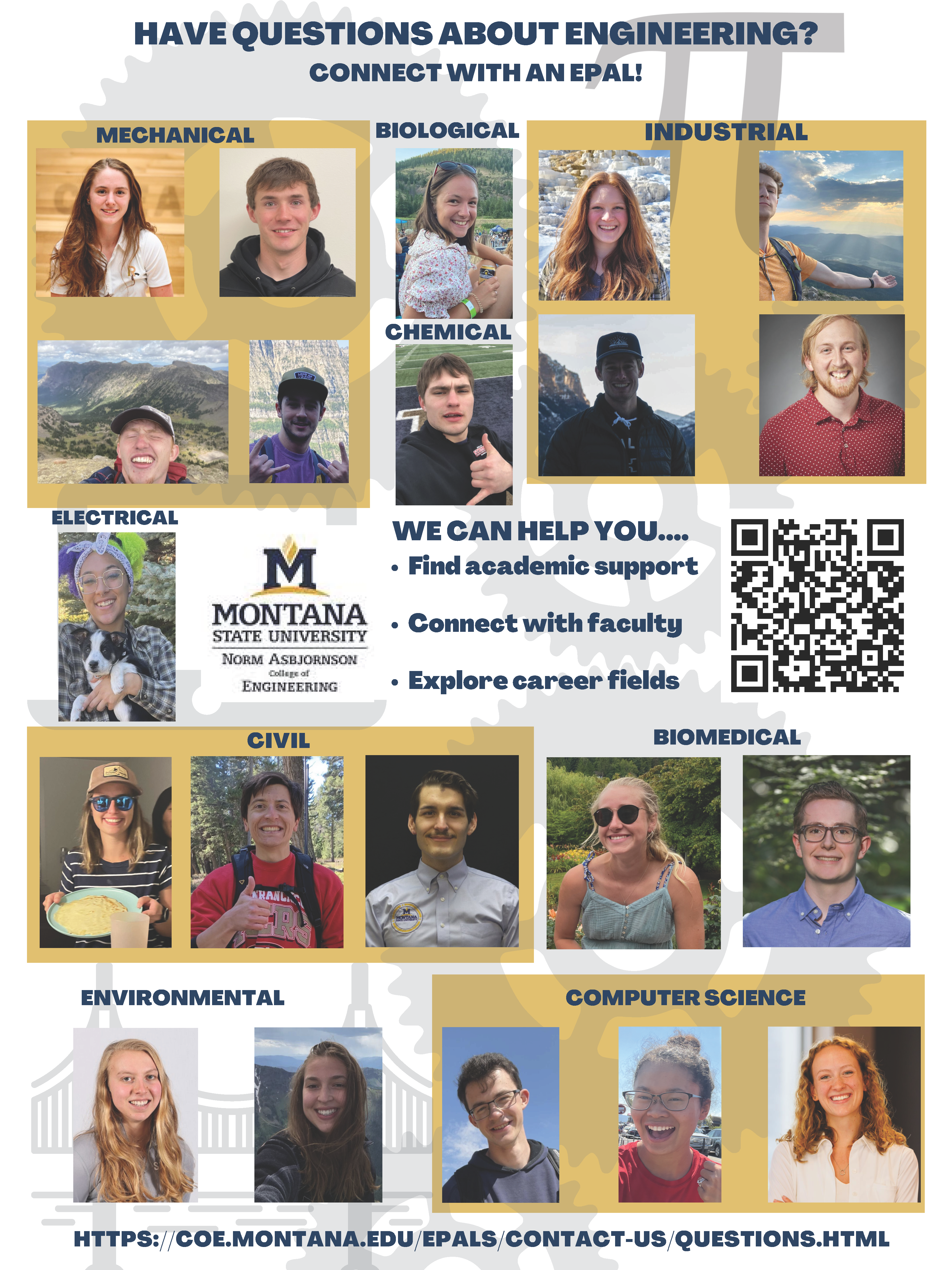 Want to explore Engineering-related clubs? Check out the list of NACOE clubs!
Need advising? Check out the NACOE Online Advising Center. We're here to help.
What can an ePAL help me with?
College of Engineering ePALs are engineering or computer science students just like you, but with recent experience taking the classes you are currently navigating. Their experience, training and preparation as mentors have prepared them to be valuable resources in helping you locate the appropriate resources to help you succeed in your classes and become the Engineering or Computer Science student you came to MSU to be.
As you move through your Freshman and Sophomore year, contact your ePALs for support in:
finding academic support;
learning what time management in college means;
connecting with faculty in your department;
writing a great scholarship essay;
exploring the career field ahead for your major;
attending College of Engineering events, such as the Career Fair, the Senior Design Fair or Women in Engineering events;
structuring group projects that work;
persisting after a challenging exam;
figuring out study groups; and
so much more!
Put your ePAL to work for you! Watch for their emails and then meet them for coffee/tea or at their Pop-up Stations around campus.
If you have any general questions for the ePALs, please fill out this form and you will be connected with the most appropriate one.
Do I choose an ePAL, or am I assigned to one?
Freshman and Sophomore engineering students are matched with an ePAL who shares their same major. Your ePAL will reach out to you during the semester in many ways: email, Pop-Up Stations, and in a few engineering or computer science courses. Find out more about our ePALS, and their contact information, by clicking on the "Meet Our Current ePALs" button above. You are also welcome to contact any of the other ePALs on the website, particularly if you feel their personal experience, major, or activities resonates with you.
How do I request assistance from an ePAL?
Your ePALs are easy to connect with through email, at their Pop-up Stations, in designated engineering or computer science courses, and through the Engineering Dean's Office. A reply to one of their emails, or a direct email via the ePALs website will get the conversation going.
Do I have to pay for an ePAL's help?
The College of Engineering is committed to providing programming to support student success. By design, there is no fee to students for the ePALs program, or when you meet with your ePAL. They are here to help you navigate your new learning environment.
How is the ePAL program different from Smarty Cats Tutoring?
Smarty Cats Tutoring is a helpful resources provided through the Allen Yarnell Center for Student Success and students who have met the criteria to tutor a particular course. Knowing student success often requires resources beyond tutoring, as a peer mentor, ePALs are there to establish a network of support much like you had in high school. You may decide regularly utilizing a learning center or forming a study group are also effective strategies and your ePAL can connect you with the right learning center or give you tips on establishing study environments. They might even share their favorite study spots in the College of Engineering complex.
How is the ePALs program different from the Sophomore Surge program?
Both the ePALs program and the Sophomore Surge program are led by faculty and professional staff committed to student success. By design, these programs support students as they transition from High School to College and work in tandem to assimilate students into Montana State University AND the College of Engineering. Below is a brief comparisons of how these two programs engage students.
College of Engineering ePALs Program:

Sophomore Surge Program:

Focused on students in engineering and computer science majors, the ePALs program provides support to Freshman, Sophomore, and Transfer students.

As a campus-wide program, Sophomore Surge focuses on students' first-year experience.

Mentors students into "best practices" for successfully completing course requirements for the challenging courses in engineering and computer science majors.

Mentors Freshman students into "best practices" for academic success.

Mentors student engagement in the College of Engineering learning community.

Mentors Freshman student engagement in the larger MSU learning community.

The ePALs program does not have a course requirement, although there is an online, D2L, component to facilitate communication.

A 1-credit course is added the Fall and Spring semester in the first year, which organizes students into their cohorts.

The outreach efforts of the ePALS invite students to be proactive and:

engage early and often in their new learning environment to develop a relationship with their faculty and the support resources available for key engineering and computer science coursework;

structure their time and learning environment to support success;

access resources to support persistence through challenging material, such as the Engineering Mechanics Learning Center;

connect with faculty, student clubs, and their network of college success advocates;

explore their major choice and the potential career paths ahead;

attend college events such as the Senior Design Fair, the Career Fair, and the Women in Engineering or Women in Computing activities;

and many others.

Through course programming, Sophomore Surge first-year students will engage in activities and events to be supported in their:

Transition to college

Effective study habits

Academic decision making

Self-identity

Values and strengths

Exploration of campus resources

Preparation for advising

Career development

And more....