The College of Engineering at Montana State University offers nine masters programs and two doctoral programs.
Master's Programs 12 Masters Degrees
Master's of Science Degrees
Master's of Engineering Degrees
Professional Master of Science and Engineering Management Degree
30-credit program designed to be completed in two years, 15 credits completed online
Doctoral Programs 7 Engineering Options + Computer Science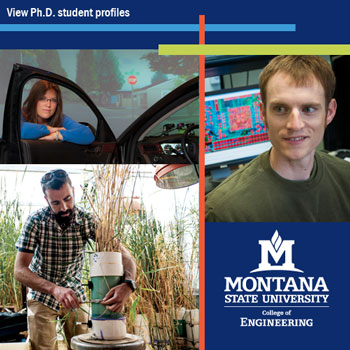 View Ph.D. student profiles online.
Fellowship Opportunity -- up to $25,000 per year available for Benjamin Fellowship, plus an additional $5,000 in matching funds per year Details...

You need Adobe Acrobat Reader to view the PDFs.